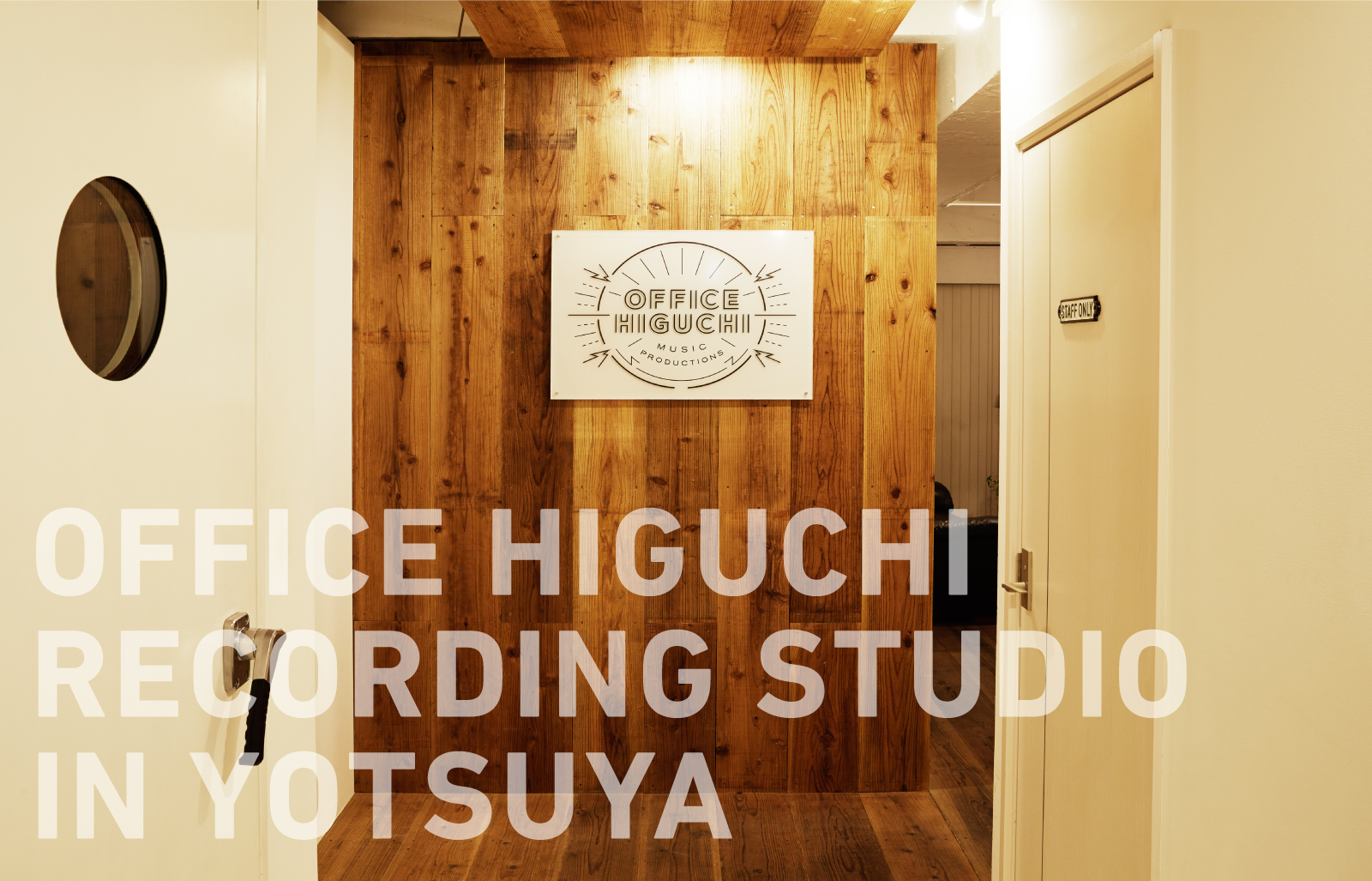 音楽制作において、直接顔を合わせることなくメールと電話のやりとりだけでも
イメージのすり合わせはできるでしょう。
また、なんの変哲もないマンションの一室でも、簡単な録音・ミックス作業は可能です。

しかし私たちは、これまでに携わらせて頂いた数々のプロジェクトを通して
「もっと親密にコミュニケーションをとりながら制作をしたい」
「もっといい音質で録音をしたい。もっといい環境でミックス作業をしたい」
と考えるようになりました。

その想いを具現化させたのが、四ツ谷に新設した私たちのスタジオです。
ここで、沢山の音を共有できることを楽しみにしています。
For musical production, we are able to share a clear picture of the sound by telephone and e-mail without meetings.
And, we are able to record and mix sounds without special equipments.

However we started thinking that, "We'd like to produce music with intimate communication." and
"We'd like to record better sound than ever." through various projects.

Our recording studio in Tokyo Yotsuya embodies our ideal of musical production.
We are looking forward to sharing a lot of sounds at our studio.
MEETING SPACE
ミーティングスペースは、無骨ながらも温かみのある空気感を目指しました。
壁面には大型ディスプレイ、天井にはスピーカーを設置。
ゆったりとした空間にレイアウトしたグリーンや無垢の床から伝わるぬくもりが、肩の力を抜いてくれます。
週末にはパーティースペースとしても活躍してくれる、オフィス樋口の顔ともいえる場所です。
The meeting space is simple and has a warm atmosphere.
We install a big video screen on the wall and speakers on the ceiling.
Planters and a wooden floor placed in large space provide warmth and keep you relax.
This meeting space is a face of our company and useful for parties at the end of a week.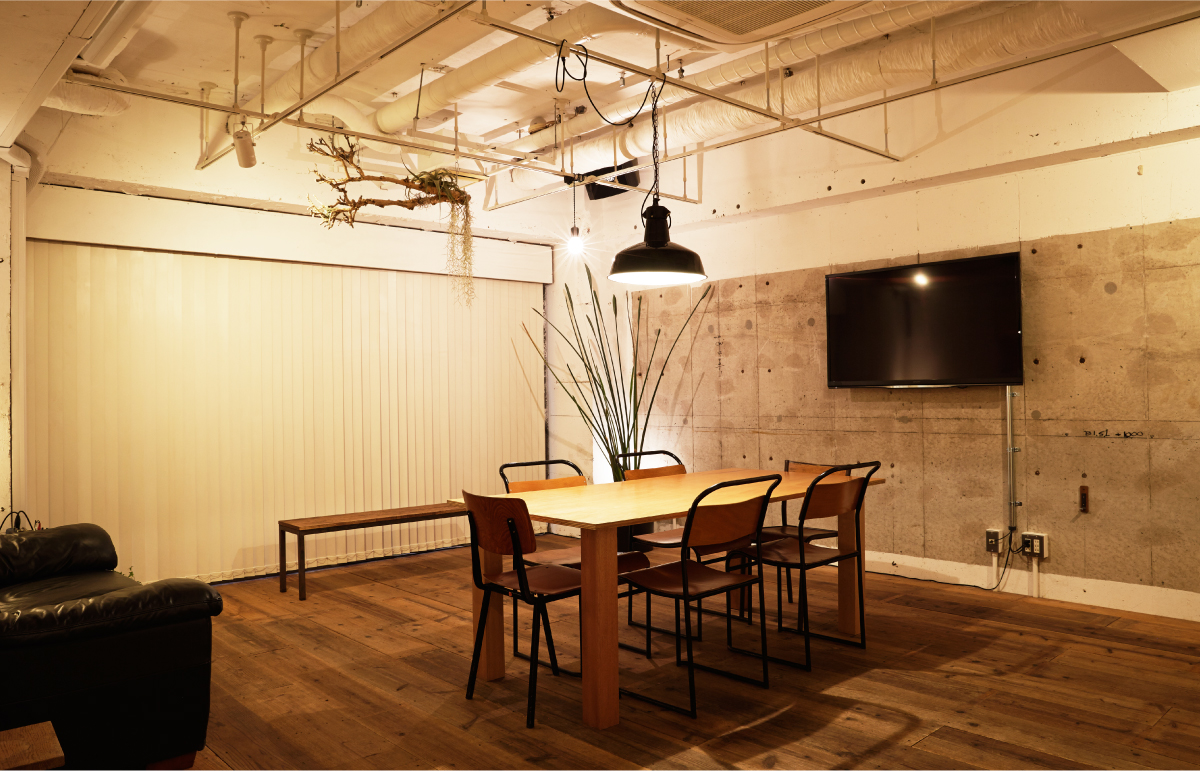 RECORDING BOOTH
声・楽器の演奏を収録するためのレコーディングブースです。
壁面にディスプレイを設置し、映像を見ながらのナレーション収録も可能。
ドラム録音にも対応できます。ギターアンプ、ベースアンプも設置してあるので、
時には、セッションでもして遊びましょう。
The recording booth is made for recording of voice and instruments.
You can record your narration while watching a screen on the wall.
And the room is stable for the recording of using a set of drums.
The room has amplifiers for guitar and bass guitar, so you will be able to enjoy a musical session.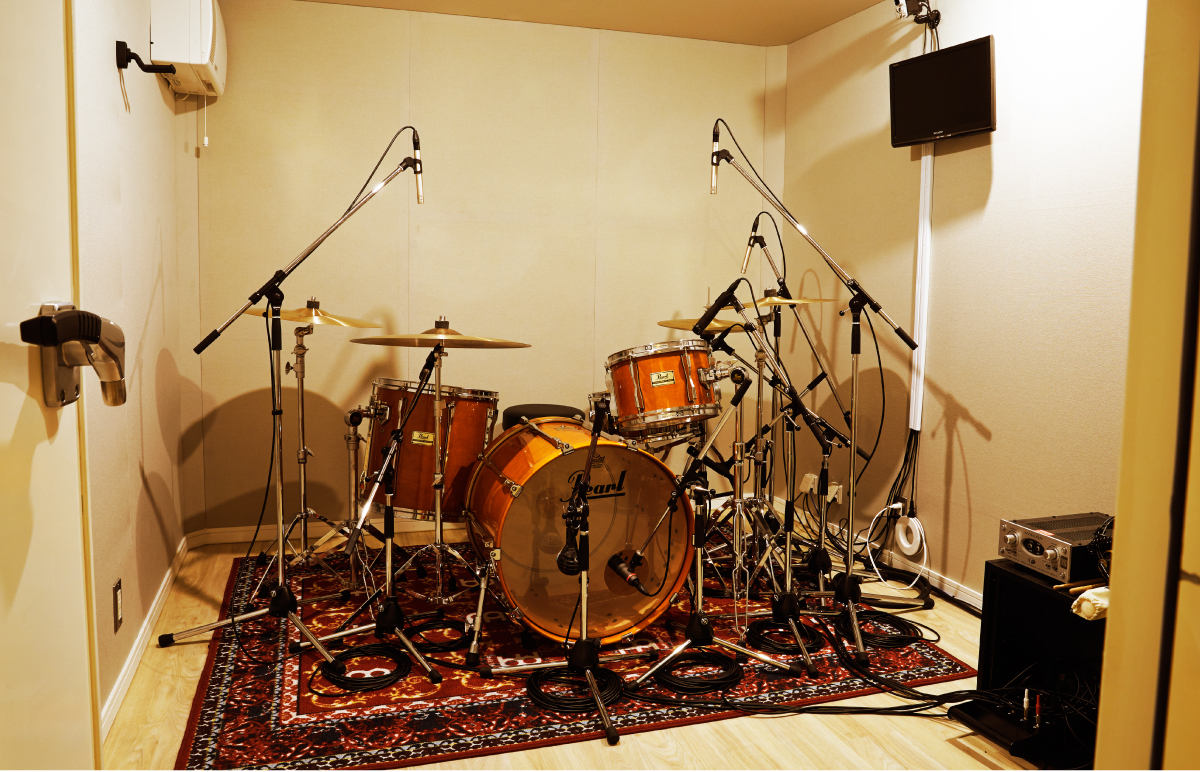 CONTROL ROOM
レコーディングブースで演奏された音は、 こちらのコントロールルームで録音・編集されます。
地下の密室であることを忘れさせる、 明るい雰囲気の部屋です。
長時間の作業に疲れたら、柔らかいソファに寝転んでリラックス。
理想の音により近づけるためのトライ&エラーをとことん楽しみましょう。
The sound were played at recording booth will be recorded and edited at the control room.
The room has very bright atmosphere in spite of being made as a basement.
When you are tired after extended activities, the big soft sofa gives you time to relax.
Please make your music approach an ideal one through trials and errors.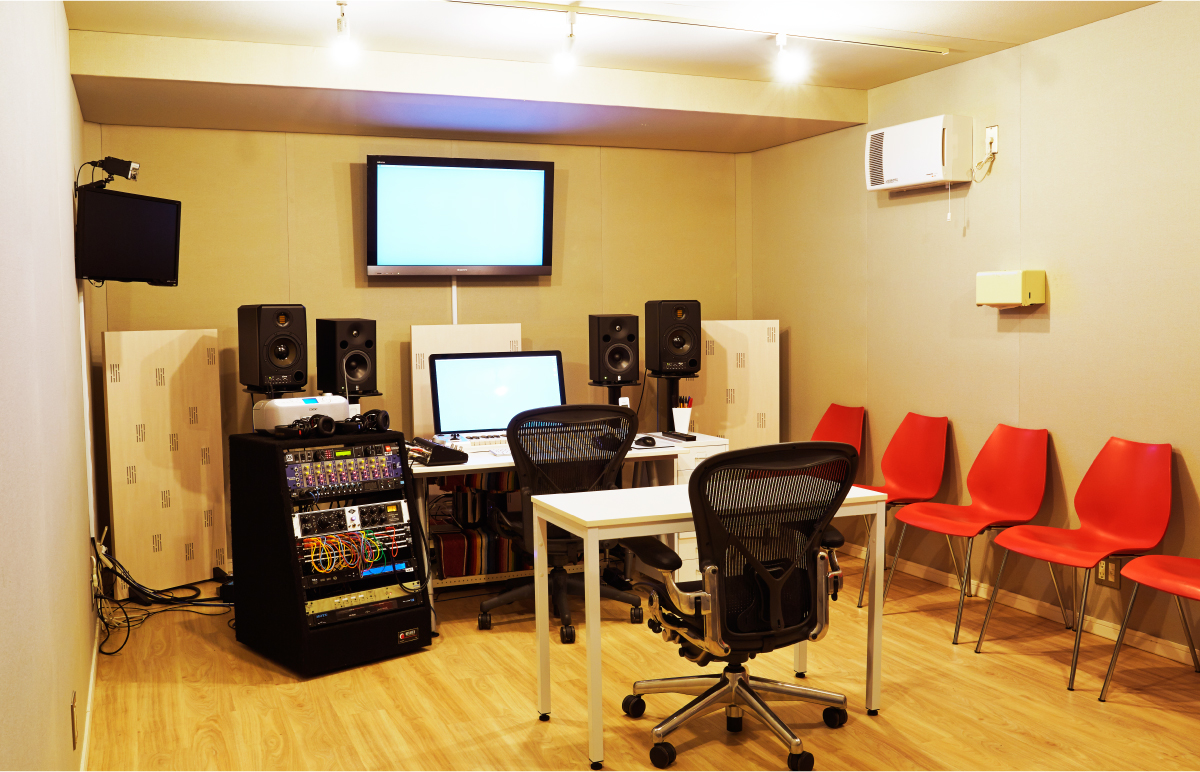 PRICE
1h / ALL TIME
10h / LOCK OUT
STUDIO
¥10,000

+ TAX

¥80,000

+ TAX

STUDIO + ENGINEER
¥13,000

+ TAX

¥104,000

+ TAX
EQUIPMENT
DAW
AVID
Pro Tools HD 12
Steinberg
Cubase 8
Steinberg
WaveLab 8.5
Apple
Logic Pro X
Computer
Apple
Mac Pro 3.5GHz 6Core 64GB Memory (×2)
Apple
iMac 3.2GHz Quad Core
Microphone
NEUMANN
U87Ai
AKG
C451B (×3)
AKG
D112
AKG
AKG C414-XLⅡ (×2)
RODE
NT2-A (×2)
SHURE
SM58 (×4)
SHURE
SM57 (×5)
AUDIO TECHNICA
ATM25
AUDIO TECHNICA
AT4040
RODE
NT4
Monitor
ADAM
S2X
YAMAHA
MSP7
YAMAHA
MSP5
SONY
ZS-R110CP
Recorder
MOTU
16A
Outboards
UNIVERSAL AUDIO
6176
Focusrite
ISA 828(×2)
Focusrite
OctPre MkⅡ(×2)
Roland
SPACE ECHO RE-201
D.I.
AVALON
U5
BOSS
DI-1 (×2)
Plug-ins
WAVES
Mercury Native Bundle
Native Instruments
KOMPLETE 10 ULTIMATE
FabFilter
Total Bundle
UAD
Celemony
MELODYNE
Audio Ease
Altiverb 7
Slate Digital
FG-X
IK Multimedia
AmpliTube 4 MAX
Drum Sets
Pearl
professional MX series
(12"HT+13"LT+14"FT+16"FT+22"BD)
CANOPUS
R.F.M. series
(12"HT+14"FT+18"BD)
岡田屋布施
一尺三寸ケヤキ長胴太鼓
岡田屋布施
二丁掛締太鼓
Keyboards
CME
UF80 Classic
Roland
A-49
CASIO
GZ-5
Amp
Fender USA
HOT ROD DEVILLE 212
Kemper Profiling Amplifier
Profiler Power head
BOGNER
2X12 Closed Back Cabinet
Other
MOTU
MIDI Express 128
etc.
(C) OFFICE HIGUCHI All Rights Reserved.